Hand Quilting Thread Tangles
by Coco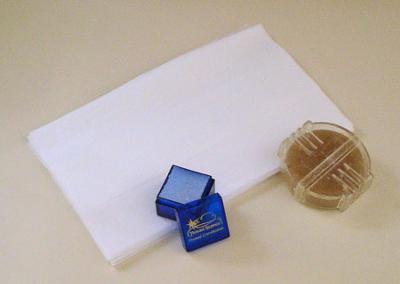 Solutions to thread tangling and knotting problems

I need some help, please.

Is there anyway to keep the thread from twisting while hand quilting? I have to stop and let the thread dangle before I can start quilting again.

Thank you for your time.


Reply
No problem, Coco!
There are several ways to deal with thread that wants to tangle and twist.
First, if you are by nature a 'twisty' quilter, then force yourself to give your needle a 'roll' in the opposite direction of your thread twists to combat the problem. It'll feel un-natural in the beginning, but if you stick with it for, say, a week and develop the habit, you soon won't even notice the effort. It's like machine quilters needing to pull the bobbin thread to the top of the quilt sandwich. Once it's part of the routine, you don't even notice it.
Now, if that doesn't work, there are three different things you can apply to your
current
hand quilting thread.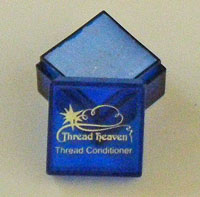 Thread Heaven

Your quilting thread is pulled over the top of this thread conditioner.

In addition to reducing tangles, because this product reduces friction, it will also reduce your hand fatigue as you stitch. It retails from $3-5. A little blue box will last quite awhile.




Beeswax

This has always been on my Mother's and Grandma's sewing machine.

Just like Thread Heaven, your quilting thread is pulled through a disc of beeswax to strengthen your thread, as well as keep it tangle free. It can still be found in any sewing store.



Dryer Sheets

These babies are sure indispensable, aren't they! Sandwich your quilting thread between a dryer sheet and pull it through. The same anti-static principles that apply to your clothes will help keep your thread from tangling. For best results, use a new portion each time.
Another simple trick is to knot the end of the thread nearest the spool. Just remember "off the spool and into the needle" or "knot the freshly cut end". This takes advantage of the way thread is twisted together to help minimize tangling.
And last, but not least...
Did you know that there are actual 'hand quilting threads' available on the market?
Gutermann, YLI, and Superior Threads all make threads specifically for hand quilting. I'm sure there are others.
This specialty thread has a waxy coating called 'glazing' to make the thread both stronger and more resistant to tangling. (Remember the beeswax recommended above? Think of that as do-it-yourself glazing.)
DO NOT use hand quilting thread in your sewing machine. The glazing is fabulous for hand quilting, but your sewing machine will hate it. The glazing isn't good for sewing machine parts.
For our other readers, if the only time you do hand stitching is to finish the binding on your quilts, if you fight tangled threads, these tips will help you, too!
Coco, I hope this helps with your problem. Thank you for your question.
Readers, if you have other remedies for tangled quilting thread, please do let us know using the 'Click here to post comments' link below. Thank you!
Piecefully,
Julie Baird
Editor