Grandmother's Fan Quilt
by Darlene
(Sherwood Park, Alberta, Canada)
My Grandmother's Fan Quilt


I made this quilt for my daughter. I started it in Oak Island, North Carolina and finished in Sherwood Park, Alberta, Canada.

A note from the Editor

Darlene, your quilt is simply beautiful. The fabric pull is just stunning. Your daughter is a lucky girl!
To our readers, Darlene's quilt is made from Grandmother's Fan quilt blocks that have 8 blades.
I've taken the liberty of putting this single block pattern into Electric Quilt. Flipped and rotated the blocks to illustrate the final layout shown just below.
One traditional quilt block plus a complimentary color palette equals one stunning quilt!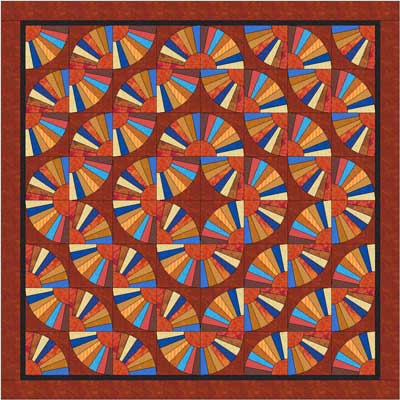 Again, Darlene, just a beautiful quilt.
Piecefully,
Julie Baird
Editor