Glide thread
by Mim Beck
(Kelsey, California)
Mim writes...
Can you use Glide quilting thread on a domestic machine?
I have a Janome 6600 sewing machine and currently use Isacord thread for free motion quilting.
Julie replies...
Good Morning, Mim!
While I have not personally used Glide thread in my Viking Designer Diamond, there is nothing that I've read to indicate that you can't.
It comes on pre-wound bobbins, 1000yd minicones and 5000yd king cones. It has a nice shimmery luminescence. Click on the image to learn more.
Does it pass the tests?
The two things that would prevent me from trying and testing
any thread in my machine are:
If it had a coating on it to help it glide through the fabric for hand quilting.

I won't want the waxy residue winding it way through the inside of my machine and leaving a bit of itself behind. I don't see anything to indicate Glide has such a coating—it would be noted it if did.


If a thread was too thick to run through the tension disks.

This is a 40wt thread, there should be no problem running it through your sewing machine.
While it seems predominantly used by long arm quilters and machine embroiderers, given that it passes my two tests above, if it was me, I'd go for it. I'd just start with a small quantity and play with it a bit.
Initial Machine Settings
For free motion quilting, I'd suggest starting with a 90/14 Topstitch needle and thread tension between 3 to 4. Then test and tweak from there.
The tension also varies a bit depending on what you use in the bobbin.
I'm a huge fan of
Superior Threads' Bottom Line
—a 60wt, 100% polyester—in my bobbin. I can get a lot of thread on each bobbin and it's virtually lint free. Due to the significant difference in weight, there'd be some extra tinkering with your tension settings.
Alternatives to Glide
Other 40wt Trilobal polyesters include:
Metro
Mini-spools, 1000m, 166 colors
Big cones, 5000m, 116 colors
[
Click here to learn more about Metro thread
]
Magnifico by Superior Threads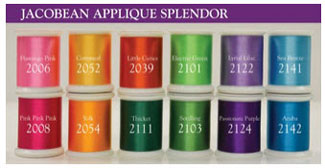 2-ply Trilobal Polyester
Available on: 500yd spools, 3000yd cones
200 colors (as of 6-21-15)
[
Click here to purchase from Amazon.com
]
Mim, I hope this has been helpful.
To my readers, if you've had experience with any of these threads, please share using the 'Comments' link below. Thank you!
Piecefully,
Julie Baird
Editor