Fusible web makes needle gummy
by Donna
(New Hampshire)
Question
This is my first time appliqueing a quilt. I used Steam-A-Seam to attach my flowers to the blocks.
When I am sewing the needle gets sticky and the thread breaks.
Is there a solution to this problem as I have already ironed all the pieces on the blocks.
Thank you for your time.
Donna
Reply
Most of the fusibles out on the market today come in two weights.
The light (or 'lite' as it's sometimes marked) is meant to be stitched through.
Generally, the heavier weight fusible webs are meant as a no-sew product.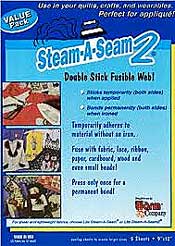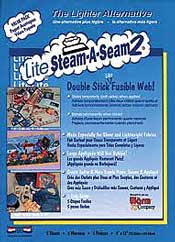 Years ago (mid-1990's) Debbie Mumm used this for her pen stitching fusible applique technique—she literally drew a running stitching on her applique shapes with a pigma pen.
Fast and done is great, but many quilters still liked to sew around their applique shapes.
With so many stitches at our fingertips these days, we want a place to use them.
Fusible web meant for sewing
Lighter fusible webs were developed, specifically for sewing through. Some have paper backing, some don't, some have two layers of release paper and are reposition-able, like your Steam-A-Seam, and some even have no paper at all. For those you need a no-stick, applique pressing sheet.
Steam-A-Seam comes in two versions:
Steam-A-Seam 2 (heavier)
Lite Steam-A-Seam 2
And though the packaging on the heavier version says that it won't gum up your needle, if either will, I'd expect it to be the heavier version.
Since you're quilt is fused, now what?
To prevent the problem...
Now for your current project, to prevent the problem, try rubbing a little Sewer's Aid on your needle to prevent/minimize gumming as you stitch. Sewers Aid is a liquid silicon whose main use is to lubricate thread so that it slides through your machine with less friction. If it's safe for thread (and I've used it, it is), it should help make your needle more 'slippery'. It is found in the notions department of most big box stores. Your quilt store may carry it, too.
To remove the stickiness from your needle, use a bit of rubbing alcohol on a cotton ball to remove the it.
You may be able to substitute a drop sewing machine oil using a cotton swab to apply it. (Remember that we'll use a bit of kitchen oil on a cloth to remove the gum left from a label we've tried to remove.) Use a light touch though. Oil can stain your quilt fabric.
As for the thread breaking, clean the needle first. If the thread is sticking to it and can't flow freely that is the source of the breakage.
If after you clean the needle and the thread keeps breaking, try a needle one size larger. The problem with a larger needles is that it will leave a hole in the fusible that won't readily close.
And finally...
After you are done with this project, take a bit of extra time to clean out your sewing machine. If the 'glue' is getting on your needle, it's possible that a tiny bit is transferring to your bobbin case.
I hope these tips are helpful to you in your project.
Readers, if you have suggestions and experience, please do tell use about it using the 'Comment' link below. Thank you.
Piecefully,
Julie Baird
Editor