Feed dogs aren't working on my Husqvarna sewing machine
by Isabel Hodgins
(Bangor, N. Ireland)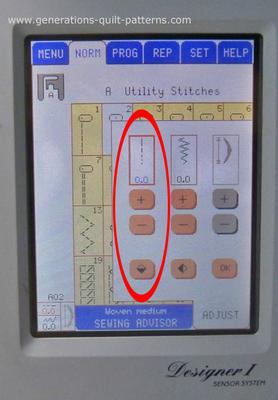 Stitch length setting

Click on each thumbnail below for a larger image


Isabel inquires...
My machine doesn't feed material through, just bought it on ebay and don't know if it does that or do you have to ease along as I have to.
IF not, what's wrong and can I fix it?
Julie replies...
Your feed dogs should be doing the work pulling the fabric through your machine, you should be simply guiding it.
Since they don't seem to be doing their job, three possibilities come to mind to check.
In the photos above, I've used the setting on my Viking Design I to illustrate the controls. I assume that if you don't have a Designer I that they look different on your machine. Click on the thumbnail photo for a larger image.
Stitch length
Double check that the last person to use the machine didn't have the stitch length set to '0' (above left). That would prevent the feed dogs from moving. Quilters, including myself, set the stitch length to '0' to save wear and tear on the mechanical parts during free motion quilting (FMQ).
Feed dog position
Grab the instruction manual and locate the control for positioning them (above, center). Again, if the last thing the previous owner was doing was FMQing, they would have been lowered. On my Designer I, the control is located on the center bottom of the arm. (see right)
FMQ settings
If neither of the previous suggestions work, check the manual (again) to see if there's a FMQing setting (above, right) on the sewing machine that might be engaged. If there is one, it may be controlling the position of the feed dogs, too.
An outside possibility would be that the presser foot pressure is set too high. Again, the manual will tell you both where to locate the control (if your machine has one) and what the average setting should be.
Readers, as always, your suggestions are most welcome. Please share your experiences using the 'comments' link below.
Isabel, if these don't work, I'd take the machine in for a quick look-see with a repairman. I'm not sure how long you have to return a machine from an ebay purchase if it's not working right.