Does bobbin placement matter?
Does it make a difference in which way you place the bobbin in the bobbin case, clockwise or counter clockwise? My underside of quilt will have the railroad track look.


Reply
I am assuming that it does--that your machine needs to have the bobbin inserted in a specific orientation.
On my Viking D1 sewing machine, the thread tail comes off my bobbin on the left hand side as I look at it in my bobbin case. The bobbin is actually marked with the Viking insignia to show 'which way is up'.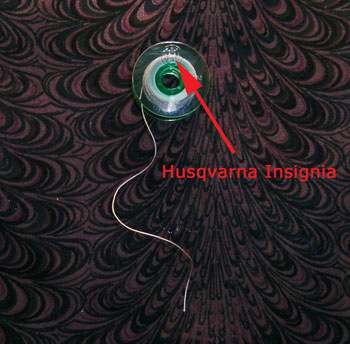 It would seem to me that the direction the thread feeds into the bobbin's tension spring would definitely have an effect on the total amount of tension that is put on it as it feeds through your machine to make a stitch.
Thread feeding straight through the spring versus thread turning back on itself will have different tensions before it even goes through the mechanism.
My advice is to consult your sewing machine manual for the specifics for your machine.
As to the the 'railroad tracks' (sometimes called 'eyelashing') that is occurring on the bottom of your quilt...that is a tension issue.
It can be solved in one of two ways...
If you are seeing this problem on the curves when you are free motion quilting, try slowing down as you stitch through the curve. It is possible that you're pulling on the quilt sandwich and it's affecting your tension and leaving too much thread in the stitch.
If that doesn't correct the problem, then try increasing the needle tension a bit if it's the needle thread showing on the bottom. Adjust, test on a practice quilt sandwich and repeat until the problem is solved.
For more information about 'eyelashing' visit
Sewing Machine Troubleshooting
. It discusses this exact problem.
Thank you for your question.
Piecefully,
Julie Baird
Editor