This post contains affiliate links for which I receive compensation
Dain's Wedding Quilt
by Elaine DeFoor
(Stuart, Florida)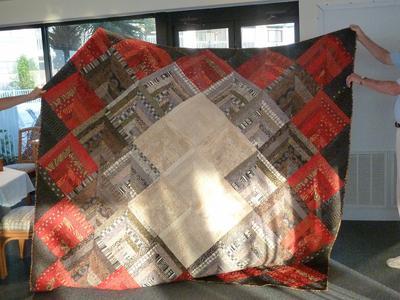 Front of Quilt
This was a pattern called Candy Queen but I do not remember the designer.

I had several firsts on this quilt. First time I did not design my own quilt, first free-motion quilting besides simple stippling and the largest quilt I had ever made. It is 94" by 94".

I like to design, choose fabric, cut, piece and quilt myself. If I don't, I don't feel like it is from me. The only help I usually have is my husband who helps me with the engineering of a new design, makes templates for me and he is my stitch ripper.

I had just finished a Crafty class on Free-motion quilting with Leah Day. I used every one of her quilting designs within this quilt. It was so much fun. I had a brand new Janome Horizon and this was the first quilt that I had done more than stippling or stitch-in-the-ditch.

The bride and groom loved it. It is in their living room on the sofa at their first home. She says she gets lots of compliments on it.

I purchased new quality fabric from Snappy Quilts in Littleton Colorado. Unfortunately they are out of business now.