Can I use my walking foot to ditch quilt inside the blocks?
by Karen
(Michigan)
This is my second quilt that I have made.

The first one I sent out to a quilter to do the quilting for me. This one I wanted to try to quilt myself. It is a gift for an 80th birthday.

I have a basic sewing machine and I am quilting a queen size quilt that has squares inside of squares. I want to stitch in the ditch each of the two inner squares inside of each block. What can I do to get ALL the fabric to move easily as I turn the quilt at each corner.

I have used your idea of sewing the outside of each block by sewing them in rows. Worked great.

Also will I damage the quilt by pulling it through the throat of the machine?

Thanks.


Reply
First, I must apologize for being so late in my response to you. There was a problem(s) with my hosting company and a backlog of older questions appeared one day in my dashboard. I am desperately trying to get caught up.
To answer your questions specifically...
As you move the fabric to pivot in the corners, move the quilt slowly and deliberately. It's a lot to move and you'll need to be careful doing it. Patience will be key.
Pulling the quilt through your machine will not damage it, though having it well basted with safety pins will also help. When I place my palm on a basted quilt, I like to feel a minimum of at least two safety pins before I call it fully basted. Again, patience and care moving the quilt is key.
I think the design you are doing looks something like below???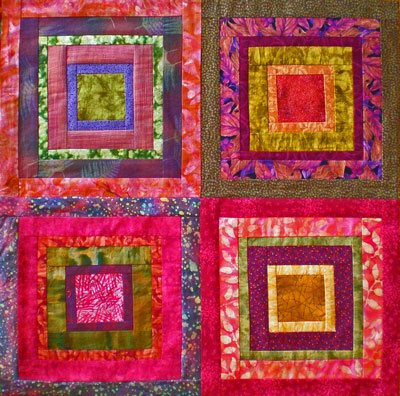 You
can
quilt it with your walking foot.
But...
...there are a couple of things that can happen...
You can bend your needle. As you turn the queen sized quilt, you're bound to pull on the thread and then the needle. It won't take much to slightly bend it. Then you've got all sorts of problems to contend with. The most dangerous being the needle is bent enough to hit the throat plate and break. Other problems include skipped stitches because the needle isn't in the proper position to create the stitches.
You can get tucks on the back. All that manipulation of the quilt sandwich means it's more likely that you'll end up with some tucks on the back. It's hard to get all the layers laying flat every time you maneuver. It's hard work and will get tiring.
Those two reasons are enough for me to recommend...
Free motion quilting...
...if you are at all comfortable with the idea. Install your darning foot and drop your feed dogs to quilt these concentric squares.
By using your darning foot, you won't have to turn the quilt under the needle at every corner. The quilt stays in the same orientation. You don't turn it like a steering wheel.
Outlining (in the ditch) the squares will be repetitive and you should build up some muscle memory. That will make the job easier.
It will take a bit to get the hang of it. You'll probably find that some directions are easier for you to quilt in than others. (At least that's how it is for me...) Take a deep breath and then relax. It's only fabric. Nothing you do to it can't be undone.
Take frequent breaks, it's a big job. And if you find you've quilted something that you think is awful, please take a break. Sleep on it if you can. I find so many times, that what I thought was terrible the night before, I can't even find the next morning. We are our own worst critics as quilters. Give yourself permission to 'be learning'...it is so liberating!
The recipient of this quilt will be grateful for all the work, time and love you've stitched into this gift. It is precious.
I wish you luck as you finish this generous gift!
Piecefully,
Julie Baird
Editor