Breaking my free motion quilting foot
by Bonita
(West Paris, Maine USA)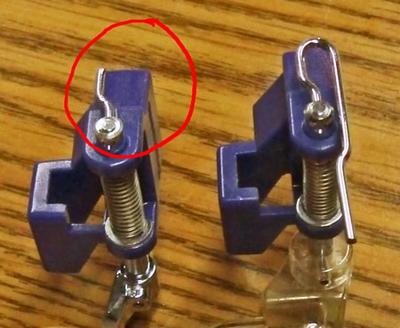 Yep, the wire on my foot broke, too!
My machine is a Sapphire 835 viking Husqvarna. I have now broken two of the spring action free motion quilting feet.

Why is this happening?

They have both broken in the same place, the first angle from the end of the wire that is pointing towards you as you sew. This angle gets a lot of pressure from the place that it sits on the sewing machine.

Please Help.


Reply
Hi Bonita!
I feel your pain. I've 'broken' several of the free motion quilting feet, too. (You can see one of them in the picture above.)
I would double check that the foot is correctly installed...that the wire is riding on top of the needle screw. Usually when it's incorrectly installed you'll hear it, it sounds like the machine is 'chomping' on the foot. If you've gone through two of them, but I'm pretty sure you've done it right all along.
What I think is happening is that the foot just plain wears out after a certain length of time. I think that wire is pretty lame, it should be a more substantial piece.
The only thing you can do is write to Viking and let them know that you don't like it. Let your dealer know that you don't like it. That's what I did, too. If they never hear of their customers' dissatisfaction, they can't fix it.
Will they make a better foot?
I don't know. I hope they do.
In the meantime, I keep a spare on hand because I know that at some point, the free motion foot I'm using is going to break.
As an aside, I'm on my third walking foot...at over $75 a pop, I really didn't like having to replace that one. (And I complained about it to the company, too.) Now, I usually do my stitch in the ditch with my free motion foot. It's cheaper to replace.
Do keep you presser feet receipts. If they break in less than a year you might be able to get the dealer to replace the foot with your proof of purchase.
I wish I had something better to report...but it's not you...it's the foot.
Readers, what do you think? Have you had to replace your free motion foot because it broke or wore out? Let us know using the 'comment' link below. Thank you!
Piecefully,
Julie Baird
Editor