Bobbin thread
by Patti
(US)
I have thread that is directed to be used only in the bobbin. Could you tell me why?

Is it thinner than regular thread?


Reply
When I purchased my sewing machine that did machine embroidery is when I was first introduced to 'bobbin thread'. The reasoning for the specialty thread is that it is thinner. Being thinner meant you could put more on the bobbin and you wouldn't run out as often while stitching out a large embroidery design.
The same idea has transferred over to machine quilting. Running out of bobbin thread in the middle of a long line of feathers is a pain. You have to pull out some of the stitches so that you can go back in, knot and then bury the thread tails.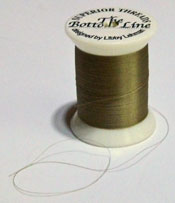 Bottom Line #617
Superior Threads makes a nice 60wt polyester thread called 'Bottom Line', originally intended as a bobbin thread. I like it because it doesn't create a lot of lint in my machine (a very nice quality to have in a 'bobbin' thread). I love it because it takes up almost no room in my seam allowance. And I frequently quilt with it on my reproduction quilts with my favorite 'go to' color ... #617...it looks more like a shadow in my lines of quilting stitches.
But yes, it's bobbin thread because it's finer.
I should mention that you don't need to use a thread specifically made for the bobbin for quilting. Many times you'll use the same type of thread that's in the needle for the bobbin, perhaps in a different color to blend in with the backing. Or if you're using a monofilament thread, my favorite thread for the bobbin is a 50 wt 100% quality cotton like Aurifil or Masterpiece or Prescensia.
Thank you for your question.
Readers, as always, we'd love to hear from you! What do you use in the bobbin for machine quilting? There's a link below to share your comments and thoughts. Thank you!
Piecefully,
Julie Baird
Editor