This post contains affiliate links for which I receive compensation
Bernina Walking Foot Problem
My needle won't stay in with my walking foot attachment. I have an older Bernina--is there something I am doing "wrong" in the set up?


Reply
Not knowing exactly what your machine looks like or how your Bernina walking foot attaches, there are three possibilities that occur to me.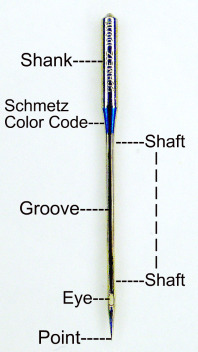 The action of attaching your walking foot to the sewing machine is somehow loosening the needle screw. Try tightening the screw (gently) with a screwdriver AFTER the walking foot is installed, or...


The needle is in the machine backwards. Sewing machine needles have a groove down the front to protect the thread as the stitches are formed. (You can feel it with your fingernail.)

At the top of the needle the backside is flat. If the needle is in backwards, it's possible that the screw can't clamp down properly to hold the needle in place, or...


The top of the needle isn't completely pushed up into position. When the needle clamp screw is tightened, is it only catching part of the needle and it just can't hold on.
I wish I could be of more help.
Readers, if you have an older Bernina, please offer your help via the comment link below!
Thank you!
Piecefully,
Julie Baird
Editor