Basting with a long arm on a scalloped edge
I have a double wedding ring quilt with scalloped edges. The layers of material kept shifting while quilting.

Do I need to baste all 3 layers together on the quilting machine. I have a Gracie II with a long arm machine.


Reply
I need to start out by saying that I am not a longarm quilter so I can not speak from long arm experience.
That said, if I was finding that the layers were shifting on me, I would add some edge stitching around the scalloped edges.
The image below is of a quilt my mom was working on where she did add edge stitching to hold the layers together.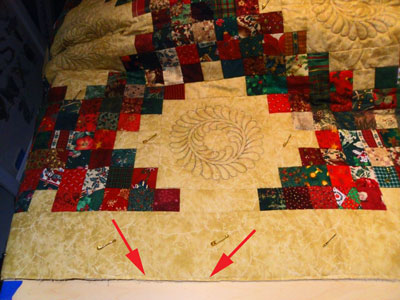 The red arrows point to the scant quarter inch edge stitches
The edge stitching is a scant quarter of an inch away from the edge so that those stitches needn't be removed after the quilting is finished. The binding will cover them.
If you are a longarm quilter and I welcome the benefit of your experience. Please use the 'comment' link found just below to share your suggestions.
Thank you for your question.
Piecefully,
Julie Baird
Editor