Bamboo Quilt Batting for Hand Quilting
I recently have seen bamboo batting, it mentions machine quilting but not hand quilting, I do mainly hand quilting and would like to know if the bamboo batting would be a good choice.

Laurie



Reply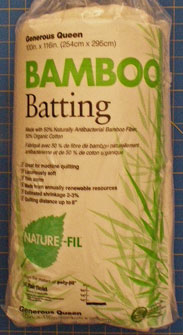 Laurie, I am a machine quilter by nature and haven't used bamboo batting yet, though the picture is batting from in my stash.
Both Fairfield and Moda make a bamboo batting and both are blends and are needlepunched (which pertains to your question, see below.)
Moda Kyoto Bamboo Blend Batting
45% Natural Bamboo Fiber, 45% Staple Cotton Fiber and 10% Non-Woven Polypropylene Reinforcement
Quilt up to 8" apart
They recommend to not pre-shrink the batting first to achieve a hand sewn look. I have not found specific washing or preshrinking instructions...yet.
Shrinkage of approximately 3% after washing
Fairfield Nature-fil Bamboo Batting
50% Bamboo fiber, 50% organic cotton
Quilt up to 8" apart
To prewash/shrink, Nature-fil's website is very specific. Put your bamboo batting in a laundry basket. Fill a bathtub with enough luke warm water to cover the bamboo. Submerge the basket with the batting and let it soak for about ten minutes. Empty the tub and gently push on the batting to help remove excess water. Then lay the batting out flat on a sheet to dry.

Fairfield adds this..."Pre-soaking Cotton Classic, Quilter's 80/20 and Bamboo batting in the washing machine will compromise the product's integrity." This statement does not make this a poor product, but rather makes for good washing instructions. You know exactly what the manufacturer intends.

UPDATE: In further checking, The Warm Company's website states for their Warm & Natural (100% cotton batting) that they do not recommend prewashing Warm & Natural in the washing machine because the fibers can cling to each other and possibly pull the batting apart during the spin cycle. Again, these are good things to know so you don't accidentally ruin a batting by prewashing/shrinking incorrectly.
Shrinkage of 2-3%
Neither company specifically recommends the batting for hand quilting. I assume that this is because both are needlepunched.
In the needle punch process, the bamboo and cotton fibers are "felted" together by being "punched-through" with lots and lots of needles. (Think of the needle felting machines currently on the market which meld fiber and fabric together with a set of unthreaded needles.) The finished batting is firmer and denser than those made with a bonding process. This density is what can make them harder to hand quilt.
In the meantime, the most common complaint that I've heard from quilters I know, is that there may be a bearding problem with the batting.
As I learn more, I'll post back here.
To Our Readers
...if you have experience quilting with bamboo batting, please tell us about it by submitting a comment!
And Laurie, thank you for your question. I learned something today!
Respectfully,
Julie Baird
Editor