Baltimore Heritage Quilters Guild 2011 Raffle Quilt
Baltimore Heritage Quilters 2011 Raffle Quilt
98" x 98"
(Click each thumbnail below for a larger image)


Location
Goucher College Sports & Recreation Center
1021 Dulaney Valley Road,
Towson, MD 21204




Admission
$7 at door*
Display of over 250 quilts, Bernina 350PE Sewing Machine Raffle, Technique Demonstrations, Docent Guided Tours, Stash to Treasure Sale, Vendor Mall, Buy It or Bid Quilt Auction, Small display of reproduction quilts to commemorate the Sesquentenial (150th anniversary) of the Civil War.
Raffle tickets are available for $1 each or 6 for $5.
Award-winning featured quilters:
Cathy Kleeman
, Art quilter;
Marty Vint
, Traditional Quilter. (See the Press Release below for more information about these two wonderful quilters.)
For further information,
price options*
or advance ticket sales:
www.baltimorequilters.com
.
---
Baltimore Heritage Quilters Guild
* * * PRESS RELEASE * * *


Cathy Kleeman and Marty Vint are the featured quilters at Quilt EXPO 2011.



Cathy Kleeman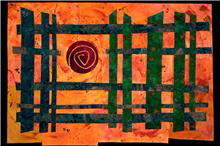 Baltimore, Md.
---- If the word 'quilt' conjures images of something Dorothy's Aunt Em might make, one look at Cathy Kleeman's edgy fiber art will convince you that you aren't in Kansas anymore. Kleeman's work will be on display Saturday, March 12, and Sunday, March 13, at Quilt Expo 2011, where she is the featured art quilter. The expo takes place at the Goucher College Sports and Recreation Center.
Often irregularly shaped and vividly colored, her quilts are her own work from start to finish. She dyes her own fabric, then applies multiple surface design techniques, such as screenprinting, gelatin paint printing, painting, stamping and batik with soy wax. She combines these fabrics into fanciful creations that are abstract art, not bed coverings.
She combines her fabrics with a technique called raw edge direct applique. She works from her imagination, not from a pattern. Like traditional quilts, hers are layers of fabric and batting, held together by thread. The pieces are heavily stitched in linear patterns. These heavy layers of thread often change the color of the underlying fabric, giving additional depth to her work. The last addition to the complex surface design is more paint, which she fearlessly flings at the otherwise completed work. Her husband, James Kleeman, M.D., is an amateur photographer who never ceases to be amazed that she doesn't know when she begins a project, how the finished product will look.
Kleeman grew up sewing, and made her first quilt in 1987, a classic log cabin pattern. She continued making traditional quilts for several years, with success at some major quilt shows, but realized that she didn't want to make the same block over and over.
In 1993, she attended the Quilt Surface Design Symposium in Columbus, Ohio for the first time. As she described in the profile which appeared in the national magazine, Quilting Arts:

"I look at this as the turning point where I left traditional quilting behind. Not that it was an abrupt change- I had to work at it for many years. I don't have any art background, so what I do know, I've learned from classes at QSDS, from reading books, and from networking with other fiber artists. If I had been working in a vacuum without the Internet and my fiber friends, I doubt that I would be as far along as I am."
And far along she is. Having appeared in many group shows, she had a recent one-woman show at the Delaplaine Center in Frederick, Md. She has won many national awards, her work has appeared on the cover of two national quilt magazines, as well as internationally in Quilts Japan magazine, and in books, including "1000 Artisan Textiles, 500 Art Quilts, Quilt National 2009: The Best In Contemporary Quilts." Her work is part of several private and public collections, including Purdue University, Syracuse University, and, locally, The Sheppard and Enoch Pratt Hospital.
Despite her success, Kleeman is soft-spoken, even shy. Balancing her exuberant creativity is great mathematical skill and an understanding of how computers work. She is generous with her talents. Active in the Baltimore Heritage Quilters Guild, she not only teaches surface design techniques, but serves as the webmistress for the guild website, www.baltimorequilters.com and oversees the layout for the biennial quilt show.
Marty Walker Vint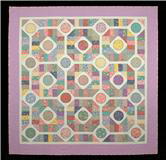 Baltimore, Md.
---- Love of color and whimsy combined with skilled technique is evidenced in the work of featured traditional quilter Marty Vint, who was born and raised in Baltimore. Traditional in her choice of pattern, Marty is innovative in her use of color and in her attention to the textural effect of the quilting stitches.
As a child, Marty was intrigued with the handwork demonstrated by both of her grandmothers, one from England and one from Sweden. During her childhood years she spent hours sitting by their sides assisting them with many facets of needlework and fiber arts while listening to their fascinating life stories. These wonderful hours established a foundation of love and respect for handwork as well as a creative drive which has continued to inspire and motivate Marty throughout the years.
In school, Marty studied Psychology and Human Development at both Bucknell University and Goucher College. After receiving a BS in Psychology from Goucher College ('73), Marty went on to earn her Masters Degree in Education with a concentration in Guidance and Counseling from the Johns Hopkins University. She worked as a Counselor, Instructor and Administrator at Essex Community College after completing her education. In 1985 Marty decided to take a break from her full time professional career to devote her energies to her family.
It was at this time that Marty found time to reconnect with her love of sewing and home arts. Although she had made her first quilt at the age of nineteen without any guidance or training, it was not until she began to take quilting classes that her interest and skill became evident. When her youngest child entered school, Marty started to work for the Husqvarna Viking Sewing Machine Corporation and began teaching sewing and quilting.
At a national quilt show, Marty was introduced to longarm quilting machines. These very large sewing machines enable the quilter to direct a moveable sewing head over the fabric layers, which is much faster and less laborious than quilting on a domestic sewing machine or by hand. Marty purchased a Gammill Long Arm quilting machine in 2005 and was soon quilting full time for customers. Her longarm is "Statler Assisted" which allows her to digitize quilting patterns and let the computer move the quilting head when necessary. This represented a perfect marriage for Marty's skills in technology and the creative arts.
Marty currently serves as a Beta Tester for the Statler Stitcher Division of Gammill, and is a Certified Instructor for Creative Studio, the program that operates the Statler Stitcher. Additionally, Marty teaches quilting classes locally at Bear's Paw Fabrics in Towson, Maryland and also teaches quilting and longarming classes on the East Coast.
Her work has been featured in several publications including "Teens and Tweens" by Anita Shackelford and Jen Perdue and has won awards at numerous quilt shows including the Machine Quilter's Showcase and the AQS Quilt Show in Paducah, Kentucky. Most recently, Marty quilted the cover quilt on the recently released "Ultimate Appliqué Guidebook" written by Annie Smith
Marty is very proud to be the mother of Kristen Vint, also a Goucher Graduate, Class of 2007, as well as of Robby Vint, a current Gilman student. Marty is married to Bob Vint, a Merchant Marine Engineer, who has encouraged and supported her along the way.