Babylock Jane, Model BL500A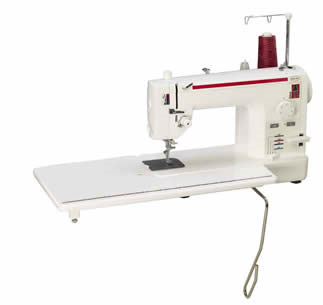 Babylock 'Jane' Model BL500A
The Babylock "Jane" is the renamed "Quilters Choice Professional". It appears to be a very strong heavy duty machine. It has a large "harp" or "throat" in which to roll up the quilt. One person says that she is able to stitch in the ditch without using a walking foot due to the machine's ability to lessen the foot pressure.

This machine is new to me so I have not actually quilted on it. I'd like to know your opinions.


Reply
I, too, have never actually quilted on this machine, so I needed to do a bit of research. Here is what I found...
This is a straight stitch sewing machine that can stitch at up to 1,500 stitches/minute with stitch lengths from 0.0mm to 7.0 mm.
Typically, sewing machines intended for use on a quilting frame include the stitching speed. If you are planning to use this machine on such a frame, the larger harp should come in handy for rolling the quilt sandwich. The bobbin case is on the side, which when the quilt is mounted on a frame, means the case is accessible from the front. Handy!
This machine includes the following features:
Precision Pin Feed System
Needle threader
Needle Up/Down
Thread cutter
Needle thread tension adjustment dial
Presser foot pressure adjustment
Adjustable feed dogs; four different heights
Hand-free presser foot lift (detachable)
Telescoping thread stand to accomodate cones
According to the Babylock website (www.babylock.com) the 'Jane' comes with 8 presser feet:
Flex-reaction for sewing on difficult fabrics
Free-motion Quilting: It has the offset shank that I prefer for free motion quilting. Good!
General Purpose
Invisible Zipper
Quarter Inch
Rolled Hem
Walking Foot
Zipper Foot
Note, the company
DOES
include a walking foot, as well as a quilting extension table (shown in the picture above).
Will you need a walking foot for ditch quilting with the 'Jane'?
I'm going to say 'Yes'.
A walking foot adds a set of feed dogs to the top of your quilt sandwich to help move the layers evenly through your sewing machine while stitching.
If your only adjustment is to reduce the presser foot pressure, there is no extra set of feed dogs on the top of your quilt sandwich. You may be able to ditch quilt without the walking foot on some quilts with no problem.
However, I believe there will be times when that extra set of feed dogs will be crucial to the quality of your quilting stitch, particularly quilts with "lumpy" seam joins...think flannel quilts, pinwheels and mariner's compass. Either the fabric is especially thick or there are many, many seams meetings at a point.
The Viking I quilt with has a Sensor Foot--meaning the machine automatically adjusts for the fabric thickness. Even with this feature, if I'm going to be ditch quilting, I use my walking foot.
In Babylock's instructions for installing the walking foot, they specifically state
"...Do not use the Pin Feed mode with the walking foot..."
, as well as, remembering to stitch slower and possibly reduce the presser foot pressure.
In your case, since the walking foot appears to be included with the sewing machine, I'd use it regardless. Better safe than sorry. I hate to rip out quilting, don't you?
The feature that I'd miss most...
...is speed control.
Now I quilt in a sewing machine table and not on a frame, but I always use the speed control for quilting, both with my walking foot and for free motion. By limiting the maximum speed my sewing machine stitches, I feel I have more control and less ripping out. Furthermore, I use different speeds for different types of quilting...usually stitching the slowest when following a draw line for our 'Generations' feather quilting patterns.
Your need for speed control may be different when quilting on a frame.
My best advice...
...is to try out the machine before you buy.
Take samples of the kind of quilting you like to do to the dealer, and sit down and work for awhile. Your own personal preferences will ultimately decide which machine is best for you!
Thank you for your question!
Readers, if you've used either the Babylock Jane or it's predecessor, the Babylock Quilters Choice Professional, please add your experiences via the "Comment" link below.
Piecefully,
Julie Baird
Editor