This post contains affiliate links for which I receive compensation
America's Quilts and Coverlets
by Carleton L. Safford and Robert Bishop
America's Quilts and Coverlets
is one of my all time favorite quilt books because it is just bursting with inspiration!
I found it at the library and checked it out almost continuously for about a year until a dear friend took pity and ordered one for me...and for herself. And then,
realizing that you could order used books from Amazon, I ordered one for my mother, Trudy
. (I was very happy with both the quality of the used book--not even a used book smell--and the service of getting the book to me. In fact, I regularly order used books now from Amazon because of high level of satisfaction.)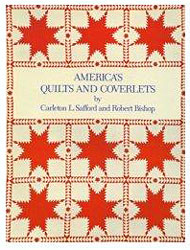 So what makes
this
quilt book so special?
It's like 'Quilting Nirvana'.
America's Quilts and Coverlets
is full of quilts (and coverlets, or woven bed coverings) from the seventeenth century to modern times. (I just figured out that the pictures are numbered... includes 458 pictures...Wow!)
It delves into all types of quilting and gives the history both in writing and in the many pictures. The authors detail the circumstances surrounding the development of the particular types of quilts. For instance, "broderie perse" applique quilts came to be because fabric from England was so terribly expensive. Women would judiciously cut out the floral or other motifs present in woven yardage and applique them onto a background fabric in a design of their own making.
You should be aware that the majority of the pictures are in black and white. But even so, are very detailed, even the ones of whole cloth quilts. Colored pictures
are
scattered throughout.
A partial listing of the Table of Contents includes...
The Bed Rug
The Whole-Cloth Spread
The Patchwork Quilt
The Applique Quilt
The overshot Coverlet
The Crazy Quilt
The Derivatives
...as well as a number of chapters specific to woven coverlets. Even though I was more interested in the quilts, the coverlet chapters provided numerous designs that could be converted to pieced patterns with nothing more than graph paper and a pencil.
You'll find a lot of connection between quilters of long ago and your contemporaries. I'll close with this quote from the book, found on page 88, and attributed to a quilter who lived in Ohio generations ago...
"It took me more than twenty years, nearly twenty-five, I reckon, in the evening after supper when the children were all put to bed. My whole life is in that quilt. It scares me sometimes when I look at it.

All my joys and all my sorrows are stitched into those little pieces. When I was proud of the boys and when I was down-right provoked and angry with them. When the girls annoyed me or when they gave me a warm feeling around my heart. And John too. He was stitched into that quilt and all the thirty years we were married. Sometimes I loved him and sometimes I sat there hating him as I pieced the patches together. So they are all in that quilt, my hopes, and fears, my joys and sorrow, my loves and hates.

I tremble sometimes when I remember what that quilt knows about me."
It's amazing. Those words speak to me. Do they speak to you?
If you're looking for inspiration and not another pattern book, this is the book to get! Keep it by your bedside and have sweet dreams of all the quilts you'll make.
ISBN 0-517-143917
1985 Edition, first published in 1980
314 pages
Review submitted by Julie Baird
Do you have this book in your quilting library? Share
your
opinion and rate the book with the comment link below.
Thank you!