Some of the links on this page are affiliate links. If you buy thru them, I receive a small commission—at no extra cost to you. This helps me provide all the free information on this site. To learn more, read my full Disclosure Policy.
Rolling Square Quilt Block Tutorial

From our Free Quilt Block Patterns Library


Skill Level: Beginner

Grid: 5x5

The Rolling Square quilt block is made from 2 fabrics. Its 5x5 grid is sometimes referred to as an uneven nine patch. It is made with both Square in a Square (SinaS) and strip pieced units.

In this tutorial you'll find cutting directions and free paper piecing patterns to download in three sizes. We finish with images of related blocks based on a 9-patch grid.

Let's begin our Rolling Square block!
Construction Instructions

Block Size: 5"(5-1/2" unfinished)

Grid size: 1"

All seam allowances (SA) are 1/4" unless otherwise indicated.

When you are instructed to press, first press the pieced unit flat to set the seam. Then open the patch, pressing from the front. Seam allowances are pressed to the dark fabric unless otherwise noted.

Click here for cutting instructions for additional block sizes.
Step 1: Download paper piecing patterns
You'll need Adobe Reader installed on your computer in order to open and print the patterns. You can get Adobe Reader here (a new window will open so you can download it without leaving this page) if you need it.

Click here for our free downloadable pattern for the 2" finished unit. Print 1 page.

In order to print, open the downloaded file, and select the "Print" option.

To print blocks the correct size, under 'Page Sizing and Handling' in the Adobe print menu, set 'Custom Scale' to 100%. Click here to see what it looks like on the Print Menu page.

Optional: Two additional sizes of the Square in a Square units are available for download. Click the appropriate size.
Step 2: Cut the fabric patches
Patches #1/#2 are generously cut to make placement foolproof. After making a couple of blocks, make any needed adjustments to the measurements and note for future reference.
Strips 1 and 2 are cut 1/2" longer than the exact measurement needed to allow for some straightening cuts.
| Patch | Fabric | Qty | Dimension | Sub Cut |
| --- | --- | --- | --- | --- |
| Center | Dark | 1 | 1-1/2" square | na |
| #1 | Dark | 4 | 1-7/8" square | na |
| #2 | Light | 8 | 2-3/8 square | |
| Strip 1 | Dark | 1 | 7" x 1-1/2" | na |
| Strip 2 | Light | 1 | 7" x 1-1/2" | na |
Step 3: Assemble the units
Square in A Square Units

Cut four patterns from the downloaded pattern sheet. A rough cut it good enough; no need to spend time cutting on the dotted line.
Reduce your stitch length to 15-20 stitches per inch for paper piecing.

With a dab of Elmer's Glue Stick—the kind that goes on purple and dries clear—stick the wrong side of a Patch #1 to the unprinted side of the pattern, centering it as shown below.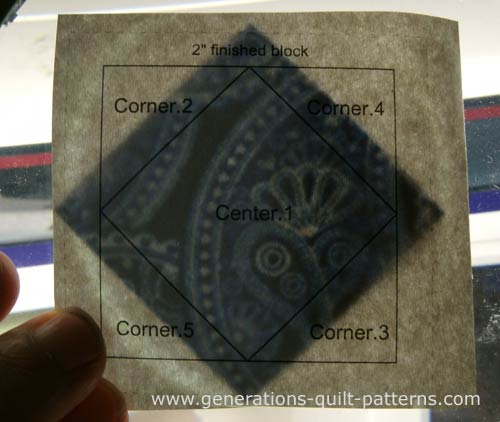 The center square is quite dark with much lighter corners.
To prevent the darker fabric from 'shadowing through' to the top of the block, position your #2s so that their edge extends just a wee bit past that of the #1. That way you won't need to go back and trim the darker seam allowance.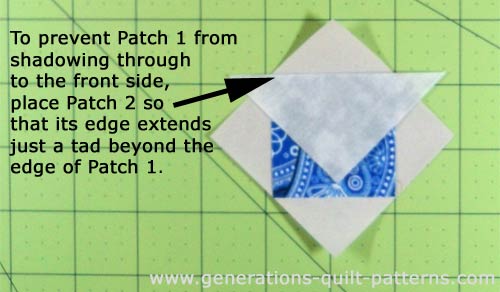 Stitch a light #2 to two opposite sides of #1, starting before and stopping after the solid stitching line.

Press.

Stitch the remaining #2s to the two remaining sides. Remember to start before and stop after the black stitching line for secure seams.
To reduce unnecessary bulk trim away any dog ears and then press.

Repeat for the three remaining SinaSs. In this pre-trim photo notice that the outside thread tails are still intact. There was no need to cut them off during construction because they'll be addressed when the blocks are trimmed to size. No duplication of effort!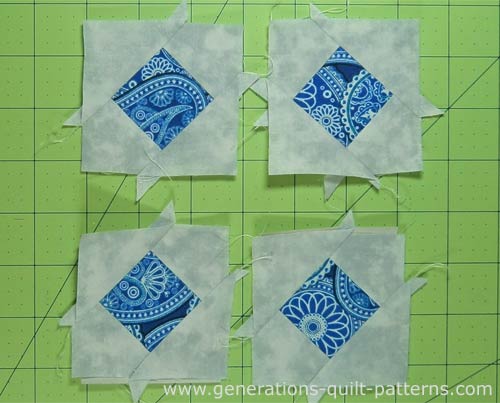 Trim the patches to 2-1/2" square with your rotary cutter and ruler.
For a more detailed description of paper piecing this Square in a Square unit, click here.
Strip Pieced Sides

With right sides together, sew the light and dark 7" x 1-1/2" strips together along the long side.


Press with the SA toward the darker fabric. This strip set now measures 7" x 2-1/2". Straighten one short edge with your rotary cutter and ruler.

Subcut into four 1-1/2" x 2-1/2" patches.

Step 4: Assemble the Rolling Square quilt block
Remove the paper from the SinaS units. Arrange the cut and pieced units into the block design.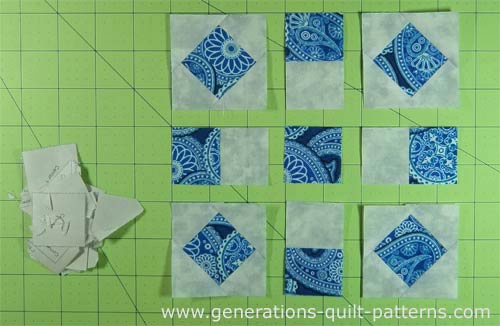 Stitch the units in each row together. Press with the seam allowances in the direction of the arrows below to reduce bulk.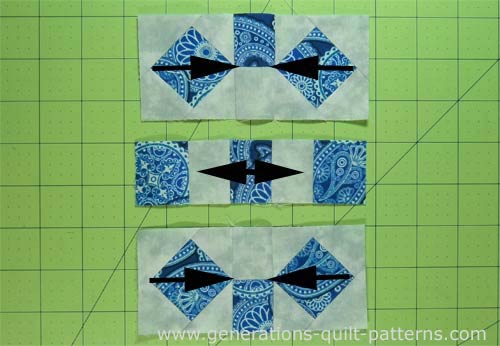 Stitch the rows together. The seam allowances nest to make matching them easier. It is helpful to use pins particularly where the point of the SinaS unit meets the seam line of the strip pieced one.

Press with the SAs away from the SinaS to reduce bulk.

Your finished Rolling Square quilt block will look like this.

Cutting Chart for Other
Rolling Square Quilt Block Sizes
Finished Block Size
Patch
Fabric
Qty
7-1/2"
10"
Sub Cut
Center
Dark
1
2" square
2-1/2" square
na
#1
Dark
4
2-5/8" square
3-3/8" square
na
#2
Light
8
2-7/8" square
3-3/8" square
Strip 1
Dark
1
9" x 2"
11" x 2-1/2"
na
Strip 2
Light
1
9" x 2"
11" x 2-1/2"
na
Trim SiaS units to...
3-1/2" square
4-1/2" square
--
Strip set finished size
9" x 3-1/2"
11" x 4-1/2"
--
Cut sewn strip set into...
4
2" x 3-1/2"
2-1/2" x 4-1/2"
--
Grid Size
1-1/2"
2"
--
Common Variations
More often you'll see the Rolling Square quilt block design drawn on a 6x6 (aka Nine Patch) grid like the patchwork designs below.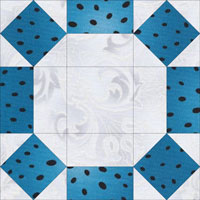 Broken Wheel

A two fabric block. Notice that the dark center is gone. This version is drawn on a 6x6 grid.

Other names include: Block Circle, Johnnie Round the Corner, Single Wedding Ring, Squirrel in a Cage and plain ol' Wheel
Click here for instructions to make this block.
Squirrel in a Cage

The dark center is back!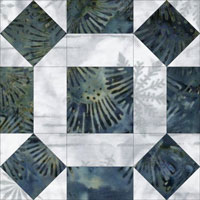 Mrs. Miller's Favorite

All color placement is reversed.

This variation is also know as Broken Wheel.

Rolling Stone

Different fabric placement really changes the look.

Other names include: Letter O and Wedding Ring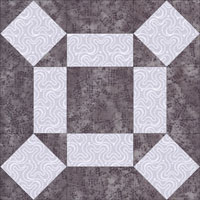 Ready for More Blocks?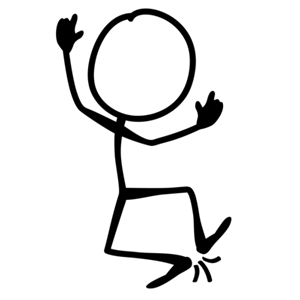 Now that you're Rolling Square quilt block is finished, check our Free Quilt Block Patterns Library for more hip-to-be-square blocks to make!
Return to the top of this Rolling Square Quilt Block Tutorial