Some of the links on this page are affiliate links. If you buy thru them, I receive a small commission—at no extra cost to you. This helps me provide all the free information on this site. To learn more, read my full Disclosure Policy.
Echo Quilting

A Simple Technique with Big Impact
Echo quilting is one of those free motion skills that every machine quilter should master.
Fast to do because it requires no marking, it adds emphasis to applique and quilting designs with ease and is a much quicker alternative to micro-stippling or other fill stitches.

It is a form of background quilting that can be done either by hand or machine.

Echo or Outline Quilting is...

A line of quilting that is stitched a uniform distance away from a fabric patch, applique piece or quilting motif. If you stopped with the first line of stitching, it is called outline quilting.
If you continue by stitching another line a uniform distance away from the first, you are now echo quilting. Continue adding lines of quilting in this manner until you are satisfied with the look.
You Win with Echoing

Like any other type of free motion quilting this will take some practice. You are concentrating on your stitch length, following a line AND keeping the distance between stitching lines relatively even.
Again, be patient with yourself, this will take practice.
But the benefits to you are well-worth your efforts.
Save Time, No Need to Mark

If you stitch by machine, use the edge of your darning foot as a guide to approximate a quarter inch distance. You can even echo the inside of an applique shape to add dimension and texture.
If you quilt by hand, the stitching lines are typically made a finger width apart. When you come to the end of your first round, you'll simply slide the needle in between the layers of the quilt to maneuver your needle to the spot to begin your next row.
---
---
Showcase Your Applique

If you've appliqued a quilt top, you know that the applique, especially if done by hand, is the real star of the quilt. Nothing should detract from it.
Echoing around the design adds emphasis without distraction by repeating the outside line. This stitching also compacts the batting around your design so that your applique comes forward visually.
And Accentuates Quilting Designs, Too!

This is an example of echo quilting using a con-
trasting 100 wt silk thread in red for emphasis.
Click the picture to see a larger image.
Feather quilting is stunning and adds a real WOW factor to quilts. Make those feathers stand out even more by adding a few rows of narrowly spaced stitching. It will compact the batting and accent the outline of the feathers and visually increase the WOW factor of the feathers.
To up the impact, change the colors of thread for succeeding lines of quilting. Even a fine 100 wt silk thread can dazzle if you just change the thread colors.
Reduce the Time Spent on Background Fill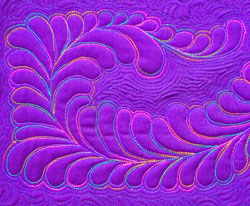 This is a section from
Generations Quilt Pattern
B120
called "Feathered Bellpull". It is quilted on
hand dyed cotton sateen. The variegated thread
is Superior's Rainbows. The echo stitching is
done with 100 wt silk thread.
After you've quilted your feathered designs and added a few rows of echo quilting for emphasis, look for those small spaces on the inside of the feather plumes. They are a perfect spot for additional echo quilting.
For quilts where there is not much space for background quilting, consider echoing as your method to complete ALL the background quilting instead micro stippling. It's much faster and more interesting visually.
Tips to Better Echo Quilting

If you're having a hard time spacing your rows evenly, go ahead and mark your stitching lines for practice. Remember to follow the instructions on any marking tools you use to remove the marks.
A round darning foot WITHOUT an open toe is helpful for stitching lines a quarter inch apart. Just be sure the foot is round so your needle is an even distance away from the edge of the foot...all the way around.
For stitching lines less than a quarter inch apart, an open toe darning foot is easiest because there is nothing between your eyes and where the needle is going.
For more information on Echo Stitching...

Read our Q&A on echo quilting to find out why you don't want to turn your quilt under the needle during this type of quilting.
---
Return from Echo Quilting to Quilting Feathers - An Introduction
Return to the Generations Quilt Patterns Home Page.