Some of the links on this page are affiliate links. If you buy thru them, I receive a small commission—at no extra cost to you. This helps me provide all the free information on this site. To learn more, read my full Disclosure Policy.
Applique Supplies
for Invisible Machine Applique

The applique supplies you need to create the "look" of hand applique stitched by machine, are very basic, very accessible.
In fact, most are probably sitting in your sewing room right now. A quick trip to your local quilt store or grocery store is all that's needed to complete the list!
Invisible Machine Applique Supplies List

Required Supplies
Sewing machine in good working order

Open toe applique foot to see where the needle enters the fabric
Zigzag stitch setting of 1.0 wide and 1.0 long

Thread

Monofilament for the needle, I like Sew Art and YLI
50 wt Cotton for the bobbin like Aurifil or Masterpiece that matches the background fabric

Scissors for cutting fabric
Elmer's Washable Glue Stick (goes on purple dries clear)
Elmer's Glue (the white stuff in a bottle your kids use)
Parchment paper or applique pressing sheet
Cuticle stick (a wooden skewer or orange stick also works)
Iron and ironing surface (cover with fabric scraps or freezer paper to protect it)
Pencil for tracing designs
Microtex Sharp needles size 60/8 up to 75/11
Rinsaway water soluble stabilizer
Optional Applique Supplies
Scissors for cutting paper
Stapler and staples
Cut and Press board for gluing/ironing templates
Straight stitch throat plate
Right-click to download a PDF file of these applique supplies for a handy shopping list.
If you have any problems, please use Contact Us to let us know. Provide your email address and request a copy of the "Applique Supplies" list.
Now let's discuss some of the finer points of our applique supplies list...
What's an Open Toe Applique Foot?


The open toe applique foot differs from a standard presser foot.
No bar joins the "toes" in front of the needle, so you can see better
The bottom has a channel for stitching over raised pieces
If you can't find this foot, try a clear plastic presser foot.
The ZigZag Stitch Requirements

You need a sewing machine with a zigzag stitch that can be adjusted to 1.0 wide and 1.0 long. For this set up your zig zag throat plate will work just fine. It's the one with an oval opening.
Straight Stitch Throat Plate - Optional

A straight stitch throat plate has a much smaller hole. Smaller hole means better stitch quality and less chance of fabric jamming while stitching.
If you already have a straight stitch throat plate, then test it as follows:
Install the straight stitch throat plate
Set the zigzag to 1.0 wide and 1.0 long
Hand walk the unthreaded machine through a couple of stitches. That way if the hole is too small you won't break a needle. If the needle hits the throat plate, then stop now and just use the zigzag version. Otherwise...
Thread the needle and using a practice applique piece, again, hand walk your machine through several stitches. If this works, then do use this throat plate.


So What's the Secret Ingredient?

Rinsaway water soluble stabilizer!
Made of polyester, it's washable and comes in 20 inch wide yardage. Joann's and Hancock's both carry it for about $2/yard.You will use it straight from the bolt, there is there's no need to pre-wash or pre-treat.
This water soluble stabilizer tears like heavy paper. But wash it and it turns into polyester fibers. With freezer paper templates, you must remove the template (usually by cutting it out from behind). But this method creates...
Applique templates you leave in the quilt.
The fibers are soft once your block is washed and all the glue removed. If you didn't know there was fiber in your appliques, you wouldn't know.
Get the Right Monofilament Thread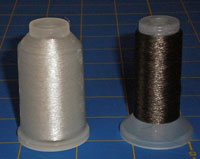 YLI Monofilament Thread Clear, left,
looks milky on the spool and Smoke(r)

Use a quality monofilament thread (size .004) for invisible machine applique. My favorite brands are YLI or SewArt. Both are made of nylon which means reduce your iron temperature when pressing stitched applique shapes. Sulky and Superior both make polyester monofilament thread. Polyester has a higher melting point than nylon. Check your local quilt store for these threads.
Monofilament thread comes in:
Clear (appears "milky" on the spool) for stitching on light, bright or clear colors, and...
Smoke for stitching on dark, shaded or country colors
While clear works for most colors, I do keep and use both.
For the bobbin, a 50 wt, 100% cotton thread like Aurifil or Superior Threads' Masterpiece will balance nicely with the monofilament.
Why Elmer's?

Elmer's Washable School Glue Stick and white School Glue are available everywhere and used by everyone. They are non-toxic, acid-free, washable and CHEAP. You can certainly use other fabric glues but they MUST completely wash out of the fabric. That is crucial.
Fabric Preparation

Pre-wash or preshrink only the quilt fabric for the applique pieces. Then pretest all the fabrics, including the background, to make sure they don't bleed or crock. (Click to learn how to do a bleed test.)
Your block is washed in the final step to remove all the glue. The background fabric will shrink a bit then to pull in the stitching.
The result is stitches that are nearly invisible.
That completes our "Applique Supplies" list and descriptions. Let's move on to creating our applique templates.
---
Return to the top of Applique Supplies
Return to the Generations Quilt Patterns Home Page