May 29, 2018
It's been quite awhile since I've sent a newsletter. Please accept my humble apologies.
As what happens with many of us, life simply got in the way.
In the past year, both my husband and father were diagnosed with cancer. The doctor assures us that my husband's is controllable with medication...for the rest of his life.
My father's is the re-occurence of prostrate cancer that has now spread. Radiation treatment is almost complete. Surgery for the thyroid is next. Positive thoughts are always appreciated.
And in the meantime, my 20-year-old daughter is moving away from home...for the first time...to Las Vegas...all by herself. In the next two months. My baby. They grow up too fast.
If nothing else, it keeps things interesting.
Thank God for Quilting.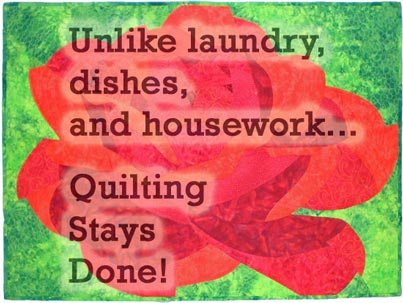 It's the one thing that stays done.

Seams stay sewn. Blocks stay pieced. Quilts stay quilted. All is right with the world at my sewing machine.

The quiet santuary of a pile of patches to sew is a gift from the Heavens.

So if your life is a bit more hectic than usual...know that you're not alone. With that lets get to this month's sharing.



In this issue of Stash Talk
"How to customize a quilt pattern for a particular bed." This is the beginning of a series of articles and worksheets to take you through the steps of creating a quilt that truly fits your bed. (There are complimentary worksheets to download in this issue.
A review of the coolest tool I've found in a long time
New quilt block patterns published on the site
...and finally, 'Stash Talk Back' where you get to share your thoughts and ask questions.
Before we get to the good stuff...
...let me get the boring bit out of the way up front.

If you've signed up for other newsletters, your inbox has been swamped with GPDR e-mails so I'll keep this brief.

GDPR is a new set of European privacy laws. What with all the Facebook stuff in the news lately, it's about time.

Because these laws apply to everyone in the EU and folks visiting in the EU visiting websites anywhere in the world, I'm taking the stance that those laws apply to me, too.

And quite frankly, just like you I want my own data protected.

As for Generations Quilt Patterns, I have never automatically added anyone to the subscriber list for Stash Talk. It has always been a double opt-in service.

If you're getting this issue, you submitted your e-mail and first name, I sent you an email to confirm YOU did that—someone can't do it as a joke on you—and you had to respond to my email to agree to this arrangement.

That way I knew it was you and that YOU wanted to be here and you knew I knew.

As such, if you would like to continue receiving my irregular newsletters then you don't need to do anything. Nice and simple!

If you would prefer not to hear from me then please use the unsubscribe button at the bottom of this e-mail and every other email.

You can read my updated Privacy Policy here if you want more information.

If you're not sure, stick around for an issue or two. You can unsubscribe from any newsletter you get with the button at the bottom of this and every Stash Talk issue. Always. Anytime.

Of course I promise that I never have, and never will, pass your details on to anyone else. That'd just be poopy!

Now to the good stuff...



"How many blocks do I need for a ____-size quilt?"
It's one of the most frequently asked questions I receive.

Man-o-man. It'd be terrific if there was a simple answer. But there's not.

Unfortunately, too many of us have made a quilt from a pattern clearly marked as 'twin' or some other bed size.

After buying the fabric, piecing the top and quilting, then making the bed with it, we find it just doesn't fit right.

Too short. No pillow tuck. Isn't symmetrical on the bed.

And what's up with that top border? It never looks right at the top of the bed. Why is it even there?

There are a number of factors that go into the calculations. A few are:
What are the dimension of your mattress? Length, width AND, the biggie, depth.
How far does the quilt need to hang over the sides.
Will your fabrics shrink?
How much quilting will you do?
A whole slew of variables that don't figure into the simple question, "How many blocks do I need?"
Over the next series of newsletters, we'll be whittling down the tsunami of information needed into bite-size, usable chunks.
Several complimentary downloads will be provided to help you adjust commercial quilt patterns to fit a particular bed the way YOU envision.
Available to you just below are download links for four cheat sheets that answer the basic question, 'How many blocks do I need?'.
They are for Twin, Twin Extra-Long (for dorm rooms), Queen and King. All include blocks ranging in size from 1-1/2" to 12" finished. Set edge-to-edge with no sashing. Also calculated is the resulting size. There is an instruction sheet to assist you in reading the cheat sheets.
Please download them here with my compliments. The instructions are in Portrait orientation. The cheat sheets are in Landscape if your printing program asks.
Click any one or some or all of the links below to print the ones you want. The standard mattress size is in parentheses.
If you haven't already, you may want to go to Standard Quilt Sizes and print that chart for your files, too!
The next issue will include "How Many Quilt Blocks" sheets for Full/Double, Full/Double X-Long and California King along with a worksheet for you to systematically keep track of the beds in your quilting life.



Cool Tool
I'm always pestering my local shops after returning from their annual sojourn to from Quilt Market, "Did you find anything cool?"

And seriously. For years. There hasn't been much to blow my skirt up.

But this last year, I finally found something.

A 'Magic Pressing Mat'.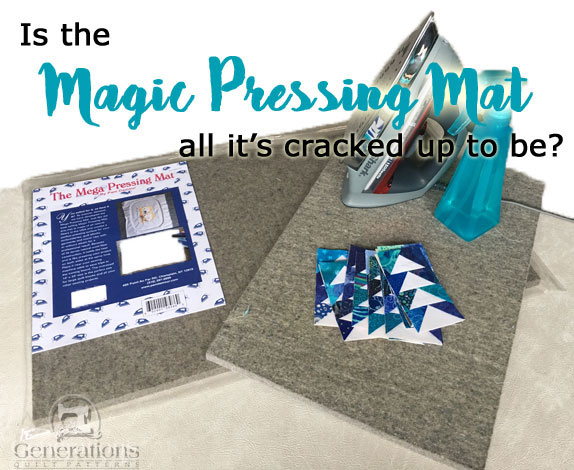 Huh???

How could a thick slab of squashed fibers get me so excited?
Flatter blocks with no extra work?
A board that grabs the cotton and acts like an extra hand?
No extra effort? No extra steps?
Yeah. That got my attention.
Read my review of the Mega Pressing Mat... to see if one is in YOUR future.





New Quilt Block Tutorials
On the website are more than 150 quilt block patterns to use in your own quilt projects. (They'll come in particularly handy as you customize your quilts to fit specific beds.)

New tutorials are added monthly.

(you can check out all of the design here.)

Always included are cutting charts (at least 3 sizes) and detailed step-by-step photo instructions.

Last month saw the addition of the following blocks. Just click the block you like to go to the instructions.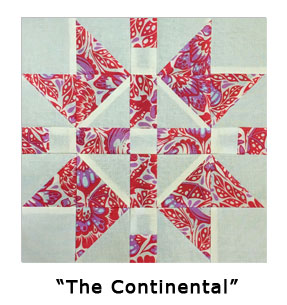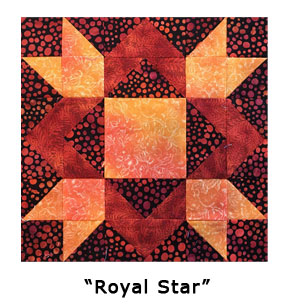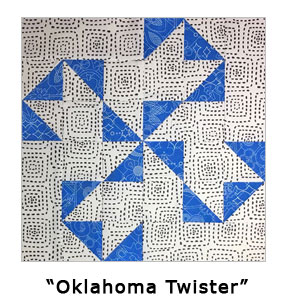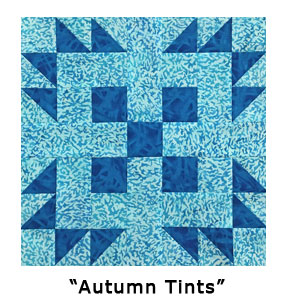 Stash Talk Back...it's YOUR turn
Comments? Ideas? Feedback? Something you'd like to see on the website or in Stash Talk that you don't see now?

Simply email me at:

Stash_Talk@generations-quilt-patterns.com

...to start the conversation.

You can say, "Hey! Julie!", but my friends call me 'ejb'!

Looking forward to hearing from you.

Piecefully,

P.S What's coming next...
In the next issue of Stash Talk we'll:
Continue to learn to make quilts that actually fit our beds by creating a master list of the mattresses in your life. There'll be a complimentary worksheet to download so you can keep the information handy.
Downloads of 'Blocks Needed for..." for Full/Double, Full/Double X-Long and California King size mattresses
A list and links to new pages on the website
Plus 'How to create interlocking quilt block designs'
Until next time, Happy Quilting!