Thread for free motion quilting Blazing Stars
by Scrappersue
(Manvel, TX)
On a white background with Blue and Red blazing stars, do I need to change colors for the top or just use one color over all of the quilt. Already stitched in the ditch with the white thread on the sashings. Lap quilt for a man.

Thanks.


Reply
Hi Scrappersue!
I love that name! My friends call me 'ejb' for 'evil' Julie Baird...because of the 'evil' way I laugh. ;D
The first thing I did was look up the 'Blazing Star' quilt block pattern to make sure we were talking about the same block.
Of course, it's never that easy (chuckling to myself). These were the three basic blocks that come up with that name...though 'Lone' or 'Bethlehem' star (center) and 'Feathered Star' (right) are the other common quilt block names that came to my mind.
Blazing Star Quilt Blocks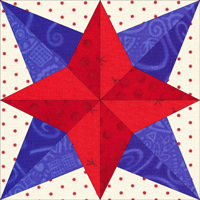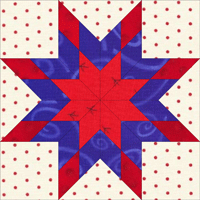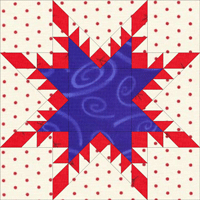 Regardless of which version you are using, you've done a lot of intricate piecing. I would assume that you'd want to highlight your handiwork in the finished quilt and not get too fru-fru because it's for a guy.
Personally, I love using monofilament thread exactly for those reasons.
YLI and SewArt are my favorites. Both are nylon. (Somewhere I heard that YLI will now be making SewArt monofilament. Either way, I like and use both.) A 50 wt, 100% cotton, like Aurifil or Masterpiece, are a good choice for the bobbin. I also like to go down a size or two for my needle because clear thread doesn't expand to fill up the big hole left by a large needle.
If you prefer a polyester thread, Superior Threads makes a great monofilament in polyester.
Regardless of what it's made of, monofilament thread comes in two 'colors'...more like tints...clear and smoke. Depending on the reds and blues in your quilt, one will probably work better than the other. If your colors are light and/or clear, I'm thinking it'll be the clear. If they are 'shaded' reds and blues, then it might be the smoke. A variety of options are shown below—the 'smoke' looks very dark on the spool but it, too, is a clear thread, just tinted.

Do some test stitching to decide what works best with your fabrics. You'll need to do this stitching anyway to make the necessary adjustments to your sewing machine tension. Because monofilament creates it's own tension as it winds through the thread path, virtually every quilter needs to reduce their tension to accomodate this thread.
You'll find more information by clicking on
Quilting with Clear Thread
.
The benefits of using this thread are you'll:
Eliminate the need to frequently change between two different thread colors. Fewer thread changes also means fewer times needed to stop and tie-off or secure your thread tails.


Have the texture from the quilting stitches without any distractions from your piecing.


Camouflage any variation in your stitch length if you are a beginning free motion quilter.
I hope this has helped in your decision on how to finish this quilt. I'd love to see it when it's finished. Do consider sharing it by posting it to our
Share Your Quilts
page.
Readers, your thoughts are most welcome! What threads would you choose to quilt with? Use the link below to share your opinion. Thank you!
Piecefully,
Julie Baird
Editor