Grace Pro Quilting Frame

I have a new Elna machine with an 11" throat, and am thinking about getting the Grace Pro Quilting frame, as a long arm quilting machine is out of the question financially.


I am a beginning/intermediate quilter and have only "played" with free motion quilting - not quite brave enough to do it on one of my finished quilt tops yet.
All of the reviews I have read of the Grace Pro are "pro" - does anyone have experience with this particular frame, and do you have comments, pro or con to share that would help me with my decision?
Thank you so much!
Linda
Reply
I quilt on my domestic sewing machine with it in a table and not on a frame, so I will leave this question open to our readers.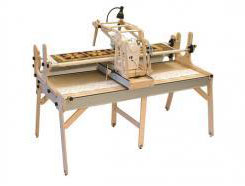 Do you use a Grace Pro frame? Tell us about your experience with it, usability, customer service, in the end are you satisfied with your purchase?
Also, if you use a quilting frame, and it's not a Grace Pro, can you give Linda some advice about the qualities and features you'd recommend in a frame?
Thank you for your help.
Good luck to you, Linda, with your decision.
Piecefully,
Julie Baird
Editor