Some of the links on this page are affiliate links. If you buy thru them, I receive a small commission—at no extra cost to you. This helps me provide all the free information on this site. To learn more, read my full Disclosure Policy.
Triangle Weave Quilt Block Tutorial


From our Free Quilt Block Patterns Library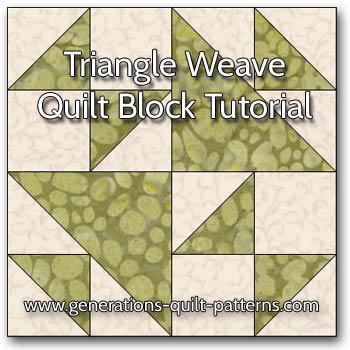 Skill Level: Beginner

Grid: 4x4 (four patch)

The Triangle Weave quilt block is all about pointy points. To achieve them, my preferred method includes paper piecing. However, not everyone is wild about that technique!
To accommodate both preferences, on this page you'll find instructions for paper and traditional piecing methods in four different sizes. The choice is yours to make.
Let's get started!

Construction Instructions

Block Size: 6" (6-1/2" unfinished)

Grid size: 1-1/2"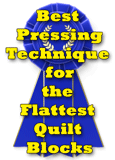 All seam allowances (SA) are 1/4" unless otherwise indicated.
When you are instructed to press, first press the pieced unit flat to set the seam. Then open the patch, pressing from the front. Seam allowances are pressed to the dark fabric unless otherwise noted.
Whether I'm paper piecing or using rotary cut patches, this is the best 'trick' I've found for getting the flattest quilt blocks. Click the 'blue ribbon' to the right to learn how you can do it, too!
Step 1: Download paper piecing patterns/templates

If you are using only traditional piecing techniques, you can skip this step, otherwise...
You'll need Adobe Reader (the latest version is recommended) installed on your computer in order to open and print the paperpieced units (a new window will open so you can download it without leaving this page).

Click here for our free downloadable pattern for the 3" finished Birds in the Air (BitA) unit. You'll need one copy

To print, open the downloaded file, and select the "Print" option.

To print blocks at the correct size, under 'Page Sizing and Handling' in the Adobe print menu, set 'Custom Scale' to 100%. Click here to see what it looks like on the Print Menu page.
Other available sizes to print:
Step 2: Cutting
In both charts below:
The dimensions listed are for squares. For example, in the blue chart, for our 6" block, Patch 1 is cut from a dark 2-3/8" x 2-3/8" square that is sub cut once on the diagonal.
Patches 6 & 7 are used to make the small half square triangles. You may wish to cut these patches a bit bigger and then trim the finished HSTs to size as is shown in the instructions. Again, the choice is yours!
Choose your favorite method of piecing and then choose the corresponding chart below. Our Fabric A is a dark and Fabric B is a light, but you can just as easily reverse them for a different look.

Paperpiecing
Finished Block Size
Patch
#
Fabric
Qty
4"
5"
6"
8"
Sub Cut
1
A
1
1-7/8"
2-1/8"
2-3/8"
2-7/8"
2, 3, 4
B
3
2-3/8"
2-5/8"
2-7/8"
3-3/8"
5
A
1
3-3/8"
3-7/8"
4-3/8"
5-3/8"
6
B
4
1-1/2"
1-3/4"
2"
2-1/2"
na
7
A
2
1-7/8"
2-1/8"
2-3/8"
2-7/8"
na
8
B
2
1-7/8"
2-1/8"
2-3/8"
2-7/8"
na
Trim small HST to...
1-1/2"
1-3/4"
2"
2-1/2"
--
Trim Birds in the Air unit to...
2-1/2"
3"
3-1/2"
4-1/2"
--
Grid Size
1"
1-1/4"
1-1/2"
2"
--
Traditional Piecing
Finished Block Size
Patch
#
Fabric
Qty
4"
5"
6"
8"
Sub Cut
1
A
1
1-7/8"
2-1/8"
2-3/8"
2-7/8"
2, 3, 4
B
3
1-7/8"
2-1/8"
2-3/8"
2-7/8"
5
A
1
2-7/8"
3-3/8"
3-7/8"
4-7/8"
6
B
4
1-1/2"
1-3/4"
2"
2-1/2"
na
7
A
2
1-7/8"
2-1/8"
2-3/8"
2-7/8"
na
8
B
2
1-7/8"
2-1/8"
2-3/8"
2-7/8"
na
Trim small HST to...
1-1/2"
1-3/4"
2"
2-1/2"
--
Trim Birds in the Air unit to...
2-1/2"
3"
3-1/2"
4-1/2"
--
Grid Size
1"
1-1/4"
1-1/2"
2"
--
Step 3: Construct the subunits for our Triangle Weave

HSTs
Make 4

Draw a diagonal line on the back of the #8 light squares.

With RST, layer each marked patch with a #7 dark patch and sew 1/4" from the line on both sides.

Cut apart on the line.

Press.

If you started with over-sized patches, trim the finished patches to the dimension indicated on the chart above.

For more detailed instructions to make these HSTs visit: Half Square Triangle: Quick Pieced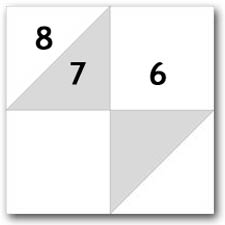 HST Subunits

Make 2

Sew a light 2" square to the dark side of a small HST you just constructed. Repeat 3 more times adding the square to the same side.
Press with SAs towards the solid square.

They look like this.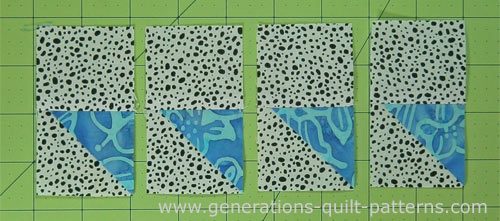 Arrange them into pairs with the dark triangles kitty corner from each other. The seams nest to assist in matching.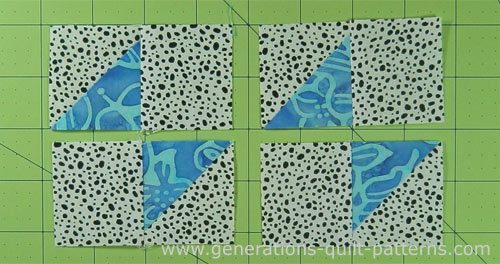 Stitch and press. Repeat for the second pair.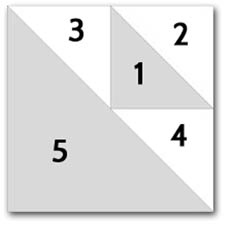 Birds in the Air Subunit
Make 2
Depending on the cutting chart you used above, click on the appropriate link below for instructions for each technique:
Refer to the charts above for the dimensions to trim the unfinished blocks.
Step 4: Assemble the Triangle Weave quilt block

Lay out the patches into rows.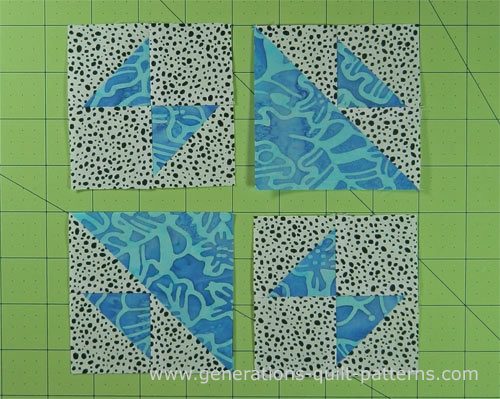 Stitch into pairs. Press towards the BitA.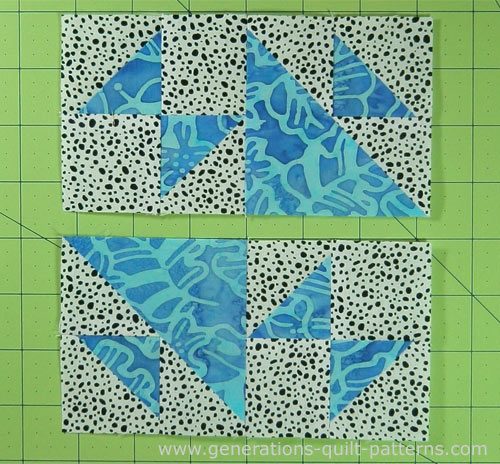 Stitch the rows together. Give it one final press.

And the finished Triangle Weave quilt block looks like this...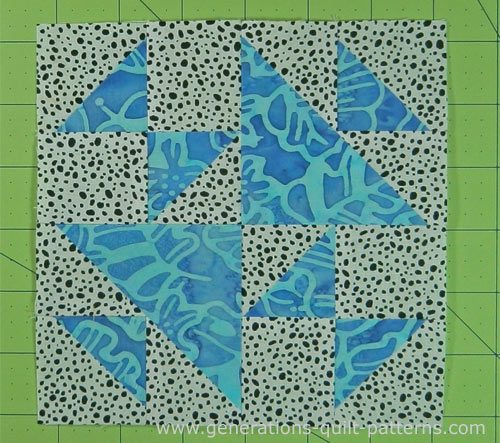 Closely Related Blocks

A handful of patchwork designs share the same basic structure as our Triangle Weave quilt block.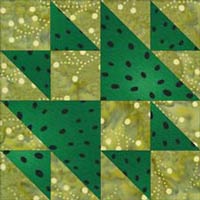 In this first one, the Goose and Goslings quilt block, can you see the difference?
The HST subunits are rotated a 1/4 turn.
This block is know as a Bow Tie Variation, Crosses and Losses, Double X or Fox and Geese.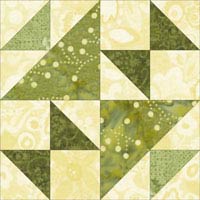 In this variation, our Triangle Weave is flipped on its vertical axis and two additional fabrics are added to the mix.
It's other names are Hourglass and Old Maid's Puzzle. (The underlined links lead to other blocks by the same name.)

Oh, what a tangled web we weave,
when first we practice to...

...stitch more quilt blocks!
Click the image below to go to our Free Quilt Block Patterns Library to find more tempting patchwork designs to make!
Return to the top of this Triangle Weave quilt block tutorial
Go to the Generations Quilt Patterns Home Page