Some of the links on this page are affiliate links. If you buy thru them, I receive a small commission—at no extra cost to you. This helps me provide all the free information on this site. To learn more, read my full Disclosure Policy.
Souvenir Quilt Block

From our Free Quilt Block Patterns Library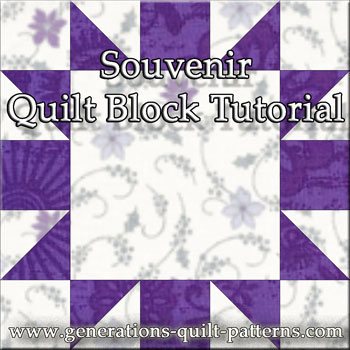 Skill Level: Beginner

Grid: 5x5
The Souvenir quilt block is a simple block, perfect for framing a favorite focus fabric.
Better yet, use it to showcase your hand-stitched redwork or a special machine embroidery collection.
With nothing more than squares and half square triangles, it's quick to piece with little matching to worry about.
My instructions include center squares that measure 3", 4-1/2", 6" and 9" finished for blocks that finish 5", 7-1/2", 10" and 15".
Let's get started!

Construction Instructions

All seam allowances (SA) are 1/4" and are pressed to the dark fabric unless otherwise noted.
Press the unit, first flat to set the seam, and then open with the SA in the direction indicated.
As always, I use prewashed and starched fabrics because I believe they are easiest to work with. The final choice is up to you!
Step 1: Cutting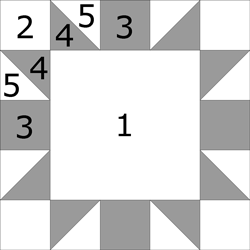 I've used a polka-dot in the sample Souvenir block to jazz it up a bit, but seriously, this block would be terrific to frame embroidery—hand or machine.
Just enough piecing to enhance your handiwork; not enough to distract from the focus of the quilt.
The embroidered square would be swapped in for Patch #1 in the chart below.

CUTTING CHART
for the
Souvenir Quilt Block
Finished Block Size
Patch
#
Fabric
Qty
5"
7-1/2"
10"
15"
1
A
1
3-1/2" x 3-1/2"
5" x 5"
6-1/2" x 6-1/2"
9-1/2" x 9-1/2"
2
A
4
1-1/2" x 1-1/2"
2" x 2"
2-1/2" x 2-1/2"
3-1/2" x 3-1/2"
3
B
4
1-1/2" x 1-1/2"
2" x 2"
2-1/2" x 2-1/2"
3-1/2" x 3-1/2"
4
B
4
4-1/4" x 4-1/4"
5-1/4" x 5-1/4"
6-1/4" x 6-1/4"
8-1/4" x 8-1/4"
5
A
4
4-1/4" x 4-1/4"
5-1/4" x 5-1/4"
6-1/4" x 6-1/4"
8-1/4" x 8-1/4"
Unfinished Block Size
5-1/2"
8"
10-1/2"
15-1/2"
Midpoint
2-1/8"
2-5/8"
3-1/8"
4-1/8"
Trim HSTs to
1-1/2" x 1-1/2"
2" x 2"
2-1/2" x 2-1/2"
3-1/2" x 3-1/2"
Grid Size
1"
1-1/2"
2"
3"
Step 2: Assemble the units for your Souvenir quilt block

First we create the units contained in the block.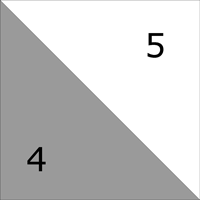 Half Square Triangles (HST)

Make 8
To simplify the sewing, we'll use the 8 at a time method for making half square triangles. (Click here for complete instructions on this method.)


My trusty 8" Quick Quarter Ruler
With a Quick Quarter Ruler mark pairs of diagonal lines (each a 1/4" from the center diagonal) across each pair of corners.
Stitch on the line. I prefer an open toe applique foot for this because it's easier to see the marking.
The drawn lines form 90 degree angles where they cross.
No Quick Quarter Ruler? No problem.
With your everyday rotary ruler, mark a single diagonal in each direction with a mechanical pencil following the directions included on our Techniques Page—Make 8 Triangle Squares in a Jiffy. (Steps 1 & 2)
Press the sewn patches flat.
Now find the 'Midpoint' measurement in the Cutting Chart. For this 7-1/2" sample block, this measurement is 2-5/8". (Click here to quickly see where this is in the cutting chart.)

Cut the sewn #1/#2 into four squares equal to this midpoint measurement. Then cut these squares apart between the stitching lines to create 8 HST units. (See Steps 4-6 on the Technique Page for a quick review.)
Press.
We started with slightly oversized patches, so we need to cut these HSTs down to the 'Trim HSTs to' measurement in the chart. (Click here to see where it is in the chart.)

After trimming, these HST are ready for the next step.
Side Units


Make 4
With RST, add a HST to each side of a #3 square.
SA are pressed toward the center, #3 patch.
Set two aside for the left and right sides.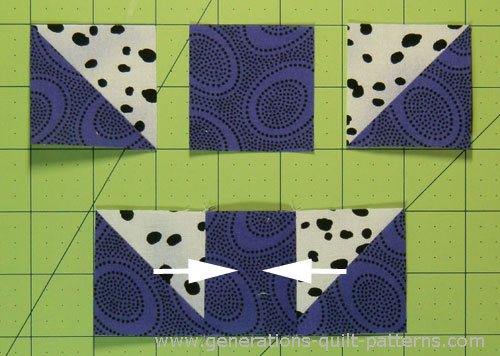 Make 4. Press SA to the center. Set aside 2.
Top and Bottom Units

Make 2
With RST, add a #2 square to each end of two of the Side Units made in the previous step.
Press with SA to the outside.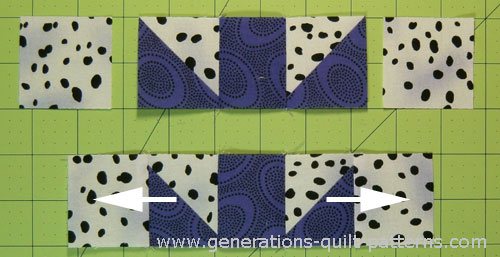 Make 2. Press SA in the direction of the arrows.
Step 3: Assemble your Souvenir quilt block

Arrange the sides and top and bottom units and center square into rows.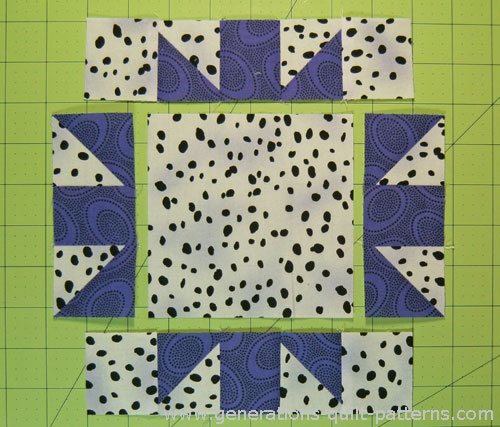 With RST, stitch the side units to the center square. Press SA in the direction of the white arrows.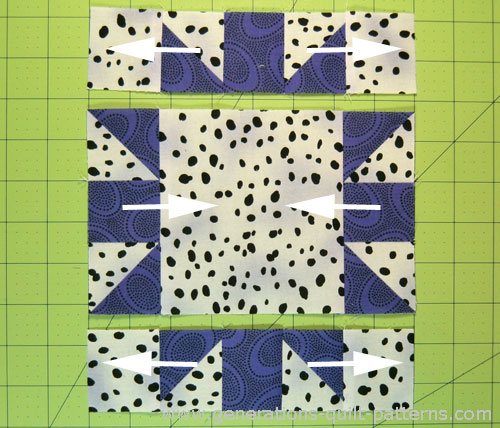 Press the SA in the direction of the arrows.
Stitch the rows together, pinning if it helps you make good matches at the seams. (There's no shame in being a pinner...I know...I am one!) The SA nest to make matching easier.

Give your block a good press. Check out our best pressing technique. It can tame the lumpiest of patchwork.

And your finished Souvenir quilt block looks like this.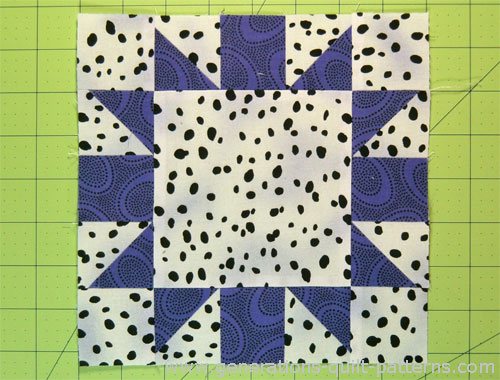 Which came first?

The block or the embroidery?
If you choose 'Souvenir' to showcase a machine embroidery collection or your own redwork stitches, you'll need to decide when to do the fancy stitching.
My personal preference has always been to stitch out the embroidery design first on a piece of fabric larger than needed. Then trim to the exact size needed. The risk is that you accidentally cut the block too small.
The alternative is to piece the block first and then embroider it. The risk, then, is that the embroidery distorts the block. Or perhaps the stitchout somehow goes awry.
Now you've got no wiggle room. The block is un-salvageable and you must start over.
Choose the order that works best for your needs.
Walk a mile in my shoes...

...and you'll end up at the Quilt Shop.
Save yourself the shoe-leather!
Find the inspiration you need for your next project in our Free Quilt Block Patterns Library or our Quilt Design 101 pages.

Return to the top of this Souvenir quilt block tutorial
Go to the Generations Quilt Patterns Home Page